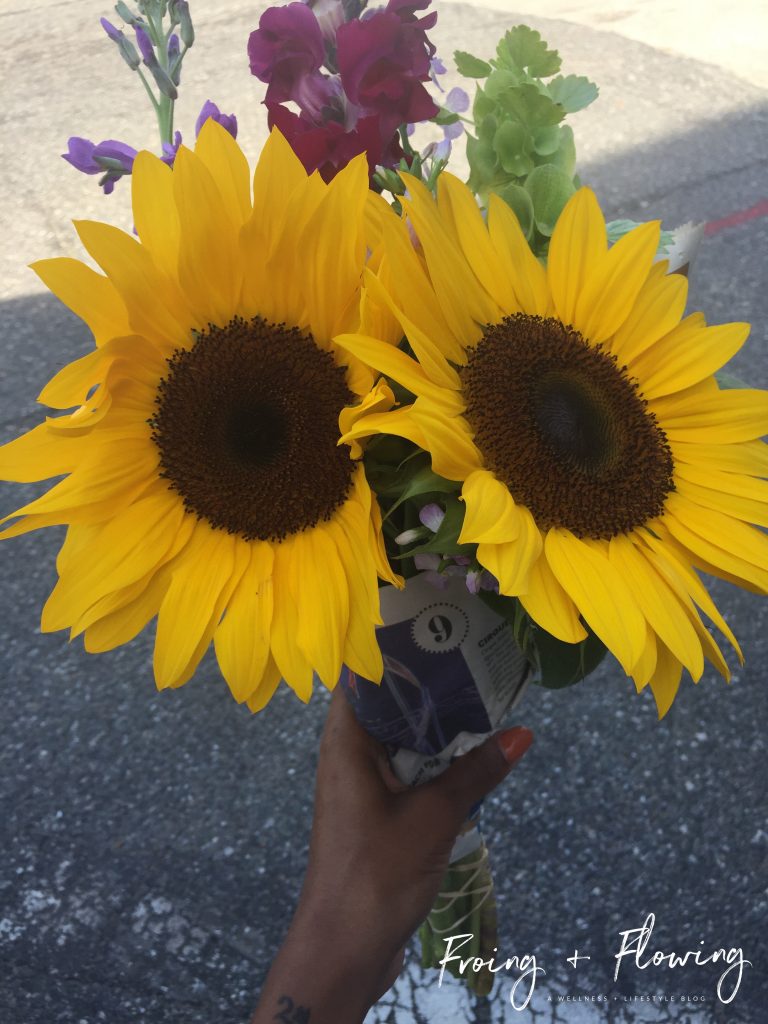 I'm a skincare product junkie. More specifically, a clean beauty skincare product junkie. I love a good clean beauty buy and experience complete joy wandering through the beauty aisle of Whole Foods, curiously scouring the ingredients list of different products and trying out a new lavender hand scrub or coconut oil face wash- all in the name of healthy skin and well, journalism.
Growing up, I experienced seasonal breakouts that left my face inflamed, red and itchy for weeks at a time. Anxious to rid myself of this irritable and embarrassing skin condition, I tried a countless amount of chemically-enhanced products I'd see in commercials showing the models smiling from ear-to-ear after using some miraculous cleanser and splashing the handful of water on their faces to reveal beautiful and clear skin.
After unsuccessfully trying out different skin cleansers and treatments that couldn't seem to heal my skin (although I quickly learned how to cup water with my hands and splash it onto my face like a pro), I completely purged my beauty arsenal of every product that contained any "dirty" ingredients and started fresh with clean beauty goods.
Needless to say, I haven't looked back since.
What I love most about clean beauty items, besides the mostly natural and easy-to-pronounce ingredients that work wonders on your skin, is a lot of these beauty buys derive from plants that can actually be grown in your own backyard.
So, if you thought plants were simply used for aesthetic purposes in your home – think again. Next time you find yourself near a greenery or garden center, pick up these affordable plants to help enhance your natural beauty and get a head start on your summer glow.
Aloe Vera
This powerhouse plant is packed with minerals, vitamins and several properties that have been effective in treating a range of skin conditions such as eczema, burns, acne and can reduce the visibility of stretch marks. Also beneficial to the hair, aloe vera can be applied directly to the scalp to treat dandruff, condition the hair and promote healthy hair growth.
To reap the beauty benefits of aloe vera, carefully cut open the leaves, scoop out the gel and apply it to your skin and scalp as a moisturizer or blend it with other beneficial skin ingredients such as cucumber or honey to make a face mask.
Lavender
In addition to relaxing the mind, lavender calms the skin with its anti-inflammatory and antiseptic properties that heals burns and soothes skin conditions such as eczema.
One of my favorite ways to use lavender in my beauty routine is by using lavender water all over my body and treating myself to the occasional lavender face steam. To do the face steam, I start by boiling water then adding it into a heat-resistant bowl with lavender buds. I then place my head over the bowl about a few inches away and use a big towel to cover my head in order to trap the steam from the bowl for a few minutes.
Chamomile
This antioxidant and anti-inflammatory is an excellent addition to your skincare routine, especially if your skin is sensitive or irritated. Chamomile's properties can help heal burns, eczema and skin ulcers and can clarify and rejuvenate the skin.
Brew some chamomile tea, let it cool and use it as a rinse for the face and body; use the leftover teabags on your eyes to reduce puffiness dark circles.
While these plants are considered to be staples in the beauty market, it's important to remember that everyone's skin is different and it's always best to consult with your dermatologist or doctor before starting a new routine to see what works best for your skin. Now, go start growing so your skin can start glowing!